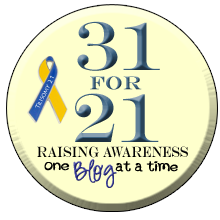 October is Down Syndrome Awareness Month and to both celebrate and educate I have committed to blogging every single day of October. 31 days for 21.
I've been reading books and blogs to gather information, stories and inspiration to share every day of October.
Some recent feedback I've received has been how much people have enjoyed learning more about what it means to have Down syndrome. Those words mean more to me than anything. If this blog touches just one person who will view people with Down syndrome or even people with any disability or difference with just a little bit more compassion, then we have succeeded. The goal of 31 for 21? To shed light where there is darkness.
I hope that both you and I can learn some new information about Down syndrome along this 31 day journey.
If there is a specific or general question you have about Down syndrome-- please leave a comment or email if you would prefer to keep your identity or question anonymous. I would love to try and answer any and all questions as we go through the month.
Also! I will be giving away a $10 Starbuck's card every Friday of October to one random person who has commented on the blog each week.
Happy Friday!!!